---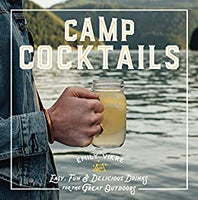 Camp Cocktails: Easy, Fun, and Delicious Drinks for the Great Outdoors
Harvard Common Press
Learn how to plan, pack, and whip up great drinks in the great outdoors.

Cabin trips, hikes, patio parties, camping adventures—however you enjoy the great outdoors, it should be fun and easy. And so should the drinks! Simplicity, though, doesn't mean you're limited to a bottle and a mixer. With Camp Cocktails, you'll have a variety of options for simple and tasty drinks that are ready to go wherever you go.

Cool off after a hot day spent hiking through the woods with a Flask Boulevardier or the Northwoods Sidecar. Break in the campsite with a Grilled Orange Cobbler or the ultimate beer-based cocktail. Bundling up around the fire? Warm up with the Salted Nutella Hot Chocolate, the Penicillin Toddy, or a spiked hot apple cider.

Every recipe comes with easy-to-follow instructions, and many feature expert bartender tips and hacks. A variety of occasions are all here, from stargazing to boating. And to round it all out, there's a whole chapter dedicated to foraging/found ingredients, and integrating nature into your favorite cocktails.
From the Publisher
How to Use This Book
I've divided this book into chapters based on general styles of camping because how you're getting around and how much you can carry is going to have a massive influence on the types of cocktails you can make. I start with camping out of a backpack (or what I can't help but refer to as "real camping"). After this come recipes that you can add to your repertoire for car camping—that is, recipes that include citrus, soda, or things that you would bring in a cooler. Next come recipes for the cabin, or for "glamping," recipes that are less about roughing it and more about enjoying the spirit of relaxation and freedom that comes from the great outdoors. Finally, there is a chapter for bringing the outdoors inside by making things such as syrups, liqueurs, and bitters with foraged ingredients.
Because each chapter assumes you can have a slightly more complex setup than the last, you can certainly make any of the backpack camping recipes while car camping, or the car camping recipes at the cabin, and so on.
And now it's time to raise a glass to getting outside!
Camp Cocktails
Great Dane (an Aquavit Salty Dog)

BMB (Blueberry Maple Bourbon)

Grilled Orange Cobbler

Salted hazelnut Hot Chocolate

Chai Blossom Toddy

Pineapple-Jalapeño Mezcalita

Grilled Peach Bourbon Smash

Marshmallow Mule
Bramble
Summer in a glass. The cool bite of gin is a perfect foil to jammy berries, so nothing is too sweet nor is it too strong. And it's so pretty! The traditional recipe calls for blackberry liqueur, but gin has such an affinity for berries that I have found you can use any berry syrup or liqueur that you like and it will be delightful. The crushed ice is important for diluting the drink properly, and it's easy to make your own crushed ice by folding ice cubes into a clean dishtowel and whacking them with a mallet, rolling pin, or other heavy utensil—I have used everything from a jar of salsa to a bottle of wine. If you use regular ice cubes instead of crushed, you'll want to add a nice splash of water or soda water.
Cocktail Technique
Measuring

Measure each ingredient for your cocktail precisely. "Do I really need to measure?" you may ask. Yes! You do. Okay, so you don't necessarily need to measure if you're making the kind of cocktail I call a "blank and blank" (such as vodka and soda, gin and tonic, rum and cola), where you are adding a shot or so of spirit to an already made mixer.

Stirring

When you stir a cocktail, the goal is to combine the ingredients and allow the ice to properly dilute and chill the cocktail without incorporating any extra air into the drink. The perfect texture for a stirred cocktail is like icy cold silk. To stir a cocktail, first measure your ingredients into a stirring vessel.

Shaking

When you shake a cocktail, the goal is to combine the ingredients while also aerating them, giving the cocktail a lightness, even fluffiness, as well as to chill and dilute the cocktail. To shake a cocktail, measure your ingredients into a shaker, add ice, and close the shaker (I'll talk a little more about different shakers in the barware section).

Straining

You strain a cocktail so your final drink will have a uniform texture, without ice chunks or bits of ingredients that were muddled into the cocktail. At a bar, you strain a cocktail even if it is going to be served over ice. When I'm camping, I often skip the straining step because having ice at all is already a luxury.
Editorial Reviews
About the Author
Emily Vikre is a native Duluthian who holds a PhD in food policy and behavioral theory from Tufts University. She is co-founder and co-owner of Vikre Distillery, which has been named best craft spirits distillery by USA Today. They have also won a slew of technical awards: a gold and five silvers at the San Francisco World Spirits Competition; gold, silver, and bronze awards from the American Craft Distiller's Association; silvers and bronze from the American Distilling Institute; and two Good Food awards in 2018. A nationally recognized food and drinks writer, Emily has been a regular columnist for Food52, and has written for Lucky Peach, Minnesota Public Radio and Norwegian American Weekly.