---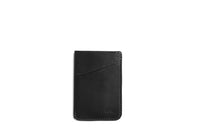 Card Sleeve Wallet - Obsidian Black
Bellroy
A tiny sleeve for use as a wallet or business card holder

The Card Sleeve is the slimmest style in the Bellroy arsenal. It can be used as a business card holder, or even as a full-time wallet for those who have a black belt in slimming their pocket contents. The main section features a pull tab for easy storage of cards and money, while the outside pockets can be used for quick-access items.
Data sheet • Product codes
Holds 2 – 8+ cards
103mm x 71mm
Keeps bulk to an absolute minimum
Quick access slots front and back
Pull tab for your main card storage
Premium, environmentally certified leather
Backed by Bellroy 3 year warranty


There are no linings, no zips, just premium, environmentally certified leather and thread. And, of course, design: A pull-tab prevents wallet-mining when it's time to produce a business card, and there are quick-stash slits front and back for the plastic you use most.
— CORE 77
INSIGHT #1
THE SIDEKICK
Our Card Sleeve is the perfect second wallet that allows you to carry overflow cards alongside your everyday wallet. Keep it in your bag or desk drawer and access those cards when you need.
INSIGHT #3
SUITS A SUIT
Lots of our friends transition to Card Sleeves when they step out in a suit. Its slimline profile slides neatly into your inside jacket pocket meaning no more bulging pants or broken silhouettes.