---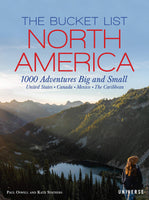 The Bucket List: North America: 1,000 Adventures Big and Small
Universe
With 1,000 adventures for all ages, it is never too soon or too late to discover new sights and novel experiences throughout North America.
 

When it is time to escape the ordinary, this guide is where you will find fun, fantastic, and life-affirming activities: do something different, go beyond the tried and true, experience the U.S. and its neighbors anew. It is perfect for recent graduates, soon-to-be retirees, inveterate daydreamers, armchair travelers, and anyone dreaming about a much-needed break from the daily routine.
 
The nation's best travel experiences are organized by theme, with chapters divided by region and entries organized geographically and indexed by state. Among the wide array: natural wonders, cultural experiences, culinary delights, self-improvement vacations, sports-related endeavors, and more. Track Alaska's "big five" (grizzly bear, caribou, gray wolf, moose, and Dall sheep) in Denali National Park, ski the Canadian Rockies, trace historic Route 66, make a pilgrimage to Elvis's Graceland, or take a culinary tour through Mexico City.
 
This volume is the perfect gift for passionate travelers
—a coast-to-coast listing of museums, historical sites, monuments, islands, inns, natural wonders, and more. Also included are activities for people of all ages: be a zookeeper for a day, direct a movie, learn to play an instrument...the possibilities are endless.

Editorial Reviews
About the Author
Kath Stathers 
is a writer based in London and the author of
 The Bucket List 
and 
The Bucket List: Wild
. 
Paul Oswell 
is a contributing writer for 
Condé Nast Traveler
. He has also written for 
Travel + Leisure
, 
The Guardian
, 
The Sunday Times
, and the 
DK
 travel guides. He edits the online travel magazine 
Shandy Pockets
.