---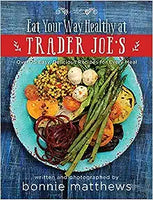 The Eat Your Way Healthy at Trader Joe's Cookbook: Over 75 Easy, Delicious Recipes for Every Meal H - Hardcover Book
Skyhorse
Author Bonnie Matthews has created a full-color book of delicious, healthy recipes chock full of the amazing ingredients found at Trader Joe's

What you eat begins at the store. If you can make going to the grocery store and preparing foods at home an enjoyable or pleasant experience, it's easier to reach and maintain a healthy diet. You'll be happier and less stressed about what's going on in your body.. With over 75 recipes that will definitely satisfy your taste buds, this cookbook is equipped to bring smiles to the entire family with kid-friendly snacks and date night cuisines. In addition, Bonnie caters to different diets, with vegan and vegetarian friendly options for main and side dishes.

For cooks-on-the-go, Trader Joe's Eat Your Way Healthy Cookbook includes simple skillet meals that incorporate grains, proteins and veggies all in one! No brainers for portioning out for the week that will help you save money. Bonus sections include how to shop at Trader Joe's and read the labels with a grocery list of essential ingredients for successful healthy mindful eating.

Here are some of Bonnie's yummy recipes using ingredients only at Trader Joe's:

Encrusted barramundi (fish) with Thai lime and chili almonds

Pork tenderloin with blackberry pomegranate marinade

Brown rice pasta with sweet basil pesto chicken sausage

Fresh tossed pizza with sautéed vegetables and mushroom mélange

Green curry stir-fry with wild caught shrimp

Savory Paella with mahi mahi, scallops, and shrimp

Kalbi BBQ and vegetable stir fry over bok choy

Grilled panini with pastrami style Atlantic salmon

Skyhorse Publishing, along with our Good Books and Arcade imprints, is proud to publish a broad range of cookbooks, including books on juicing, grilling, baking, frying, home brewing and winemaking, slow cookers, and cast iron cooking. We've been successful with books on gluten-free cooking, vegetarian and vegan cooking, paleo, raw foods, and more. Our list includes French cooking, Swedish cooking, Austrian and German cooking, Cajun cooking, as well as books on jerky, canning and preserving, peanut butter, meatballs, oil and vinegar, bone broth, and more. While not every title we publish becomes a New York Times bestseller or a national bestseller, we are committed to books on subjects that are sometimes overlooked and to authors whose work might not otherwise find a home.

Editorial Reviews
About the Author
Bonnie Matthews lost 130 pounds when she began healthy cooking, and freekeh was a huge part of her weight-loss transformation. Matthews has appeared on the Doctor Oz show in America, sharing her weight loss transformation sory and is a Wellness Warrior blogger at doctoroz.com. She lives in Costa Mesa, CA United States.
---
Product details
Publisher ‏ : ‎

 

Skyhorse; 1st edition (May 17, 2016)

Language ‏ : ‎

 

English